How often do you meet people who are only available on one channel? And, we are not talking about our grandparents. The current consumer pool is on a tech-frenzy ride. They are available on multiple channels, with each channel having its own trends. Digital platforms are also transforming to accommodate the growing expectations of its users as well contact center also need to think about omnichannel customer engagement strategy.
With so much variety and hype out there, businesses can no longer just rely on their product performance and customer service. To keep your customers hooked on to your brand, you have to engage with them across multiple channels. However, brand messaging across multiple channels can get messy and turbulent. Therefore, an omnichannel approach is imperative.
Content:
1. What Is Omnichannel Customer Engagement?
2. What Is Omnichannel Customer Engagement Strategy?
3. How To Map A Customer's Journey?
4. How To Create An Omnichannel Customer Engagement Strategy?
What Is Omnichannel Customer Engagement?
Omnichannel Customer Engagement is a cross-channel approach to engaging with customers, and personalizing as you proceed. In other words, it is a process of acknowledging the individual needs of every customer by remembering their journey and conversational context with the brand. This can be achieved through an omnichannel platform, where all channels are unified and transition amongst channels is always seamless. The next step is to develop a strategy to leverage this approach and make the most of it.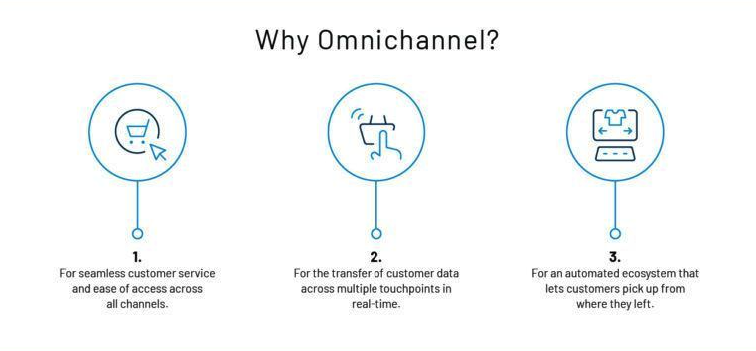 Source: Elearning Infographics
What Is Omnichannel Customer Engagement Strategy?
The omnichannel customer engagement strategy is a marketing technique to make your brand relevant and approachable by the customers. With the aid of an omnichannel contact center platform, you can connect your channels be it social media, telephony, WhatsApp, or email and map the customer's persona. You can utilize this information to predict customer's expectations and hit the bullseye.
Creating an omnichannel contact center customer engagement strategy doesn't only mean interacting on social media, but to predict customer's journey and helping them across all channels. While interacting, you retain the previous context and build a customer profile to advice, aid and influence the customer in the right direction. This overall enriches the customer's experience, bringing them closer to what they want without extra effort.
How To Map A Customer's Journey?
There are few factors that you must consider when predicting the customer's journey. These factors when put together in an omnichannel ecosystem, allows you to predict what's going on in your customer's mind.
Step 1: Defining the buying process:
The very primary step is to define the buying process. How your customers are discovering your brand, to them scanning through your website, to purchasing- the entire process will inform you of their activity on your platform. Based on this information, you can improve the experience, and understand why there is cart abandonment, what's making them stay on the website and more.
Step 2: Understand the buyer persona:
The second step is to define the buyer persona and see which part of the demography is engaging with your brand. This includes which age group, gender group, people from which location and more. Further, you can do a thorough sentiment analysis based on their buying process.
You can also set website popups to generate feedback. You can ask questions like:
- How they discovered your brand?
- How easy was it for them to navigate through your website?
- Why did they abandon their cart?
- How likely will they recommend this brand?
You can also add specific questions based on the individuality of your business. Eventually, you will learn the average customer persona that is engaging with your brand. This becomes your target audience.
Step 3: Trace your touchpoints:
To define your attribution model, you must trace all the possible touchpoints or channels your customers might use. These are the channels where your brand must be present to support, guide, and influence the customers when needed. Through omnichannel contact center, you can observe all the touchpoints from a singular platform and retain context from one channel to another, for a particular customer. This will simplify the customer's journey for you, enabling you to personalize the service for everyone.
For example A customer can discover you via a billboard ad or via Google Ads. They can take weeks and analyze your products, and compare them with other brands they like on social media. This interaction can happen on Facebook or Instagram. Then once they decide, they will visit your website and eventually make a purchasing decision. As a business, you can engage with the customer on these channels and retain context to make them feel understood and acknowledged. Such premium service will always retain your customers.
Step 4: Recognize the pain points:
It is impossible to create a perfect customer journey. There will be certain pain points that you must identify. To recognize the pain points, you can do the following:
- You can collect feedback and ask your customers directly.
- Utilize Google Analytics or any in-house tool to analyze pages with high bounce rates.
- Find out which problem-solving questions are most viewed in your Knowledge Base.
- Lastly, run through your customer conversations and identify the most common complaints.
Once these questions are answered, you can make executive decisions to eradicate these obstacles and improve the customer's journey.
How To Create An Omnichannel Customer Engagement Strategy?
1. Creating Customer Profiles:
As discussed before, you will have to understand the customer persona and create individual customer profiles. In these profiles, the entire customer's journey with your brand will be saved in the form of interaction history, purchase reports, and more. Retaining this context across channels will give you a complete insight into what the customer wants.
Leverage this information and your omnichannel contact center platform to deliver personalized support, curated messaging and more. This will excite the audience for being noticed by the brand and allow you to build long-term customer relationships.
2. Analyzing The Preferred Channels of Your Customers:
Customers will interact with you via multiple channels. It is no longer uncommon for a single customer to interact with you across channels. As a customer myself, I engage with my brands on social media, live chat and telephony, alike. Often I start a conversation on Instagram and then follow up on it later on their website Live Chat Software. And believe me, I expect the same quality of support on all the channels alike.
Similarly, your customers will have a popular preference for channels. You must invest majorly in these to interact, influence, and support your customers. The channel preference does vary from business to business, thus tracing your touchpoints is a pre-requisite to this step. If your audience is on social media, you can improvise with social media posts, and blog posts and improvise accordingly. If they are on telephony and emails, then invest in auto-dialers, email automation, queue management, WhatsApp deflection options, and more to enrich their experience.
3. Understanding Which Channels Your Brand Can Thrive:
Once you realize where your customers are, you have to adjust your marketing strategy according to that. As a brand, you cannot put out the same content on all channels and expect interaction. What might work on an email campaign may not work in social media.
Therefore, invest accordingly. The right kind of messaging will not only keep your consumers hooked, but also trigger lead generation, branding and word-of-the-mouth popularity.
4. Offer Cross-Channel Engagement and Support:
If your channels are disjointed then you are not really in an omnichannel contact center ecosystem. Omnichannel customer engagement succeeds because it seamlessly integrates all your channels, for the modern customer to fluidly move around and engage. To ensure this flexibility, you must have a cross-channel support system. This makes the experience more consistent and powerful.
Cross-channel engagement is effective because it allows your prospects to move from point A to point B in the customer journey, eventually into the sales funnel. To achieve this you must unify your data, which can be enabled by an omnichannel contact center platform. Nearly 80% of customers prefer omnichannel strategies due to the seamless communication experience.
5. Co-ordinate Your Content With Your Customer's Journey:
The last-step is to align your content with buyer's intent. In an omnichannel contact center ecosystem, you will be aware of each customer's journey. Take complete advantage of this information by aligning your content with it. For example, if you see your customers abandoning cart due to price, you can send them discount coupons on their preferred channels. Similarly, if you see a first time buyer, you can thank them and share a return discount to retain them or other offers.
Conclusion:
Omnichannel Customer Engagement Strategy is key to create a thriving brand. As any strategy, it is an interplay of technology and people. So the organization should have a trained workforce to ensure the Omnichannel platform is best used by the team to create a high level of customer engagement.