Both voicebot and chatbots play a crucial role for businesses in communicating with their customers. Communication can be done at any point of time that induces a feeling of satisfaction among the customers since they are able to communicate with the businesses with ease as well as convenience. Both of these methods of communication have their own advantages and disadvantages but both are undoubtedly the two of the biggest tech trends in recent times. Now, let us have a detailed understanding of the voicebot and chatbot.
Content:
3. Why Bots are the Biggest Trend?
What is a Voicebot?
Voicebot is an artificial intelligence and natural language understanding (NLU) based voice channel for communication that works by converting audio to text format. The AI technology helps to identify the key markers in the speech and conclude the best response to dialogue. The text to speech (TTS) engine then converts the response into audio or voice to complete the interaction. These bots are trained to complete the entire speech understanding and response process in a near-human manner. They are also referred to as voice assistance/assistant or the voice chatbot. The voice assistant is an intelligent way of communication that can be easily integrated into various devices of customer service like – IVR, chatbot, self-service, etc.
Benefits of Using a Voicebot:
The pros of voice bot are as mentioned below.
Voice mode communication – Voice is the most natural mode of communication, voicebot therefore becomes the most preferred mode of communication owing to its ease of use.
Smoother experience – With the modern smartphone, the traditional touch-tone method has become obsolete and tedious. A voicebot is a simple and natural alternative to traditional DTMF.
Greater integration – Another great advantage of the voicebot is that these bots can be easily and conveniently coordinated with a wide range of customer service tools like a CRM or knowledge base, to provide important self-service. On the other side it can be integrated to myriad of smart speakers like Alexa, Google Home which are becoming pervasive in day today lives.
Suitable for a larger customer base – A voice bot gives the customer service of a brand, a mass appeal. Customers who are less or not technology-savvy can easily use it. Even customer with deficiencies can use it with ease. Old people who find it difficult to text find it very convenient to use voice for communication. This is true for people who are not well trained or literate in writing but can speak well!
Voicebot – Challenges To Overcome:
Training – The time spent on training a voicebot can be a deterrent to its application. For complex conversations, the voicebot may need human support to handover the conversation. The voicebot would need continuous training for different scenarios.
Clean and annotated data – This is a precursor to the training. Any ML-based system needs clean dataset for it to be trained. Now, depending on the language, accent and domain – it can become a challenge to readily have the training dataset.
An Advanced Use Case:
The voicebot are being exceedingly used in industries to not just deliver a seamless experience to their customers, but also for authentication.
Caller authentication has been a major problem for call centers to solve, even more so for critical industries and operations like Banking, Insurance etc. According to a report by Pin drop labs, US companies are losing $14Billion every year to fraud attacks. Correct authentication is therefore the need of the hour for them.
Voicebot off late has been trained to understand voice frequencies to authenticate a caller. It is being used in combination with other authentication methods like phone number/account number, personal ID-based authentication, or what's more common online, a personal Q&A-based authentication, like, what was your mother's maiden name?
Voicebot are going to be the next big thing in call centre authentication and certainly something to look out for.
What is a Chatbot?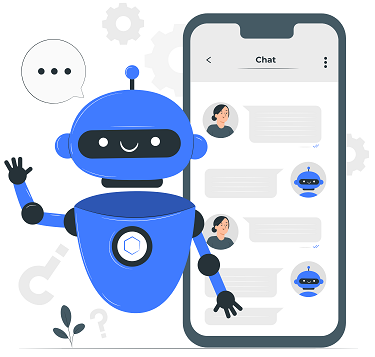 A chatbot is a mode of communication that makes use of text messages. Similar to a voicebot, the chatbot also is an artificial intelligence software that can necessarily stimulate a chat or a conversation with the users in the natural human language. The conversational AI also ensures that the experience that chatbot gives is near human. The chatbot can be integrated with ease on websites, messaging applications (Facebook messenger, Whatsapp, WeChat, Slack, etc), mobile apps, and kiosks. These bots play a vital role in the simplification of the interaction of humans with computers and hence are highly beneficial in terms of customer interactions with the business, providing a high level of engaged self-service.
Benefits of Chatbot:
The advantages of the chatbot are as follows.
Saves a lot of time – These bots save a lot of time, as the responses are prompt. Most importantly, the bots require minimal coaching during an interaction thereby reducing the time lag between the setup and productivity as compared to humans in this regard.
Customer satisfaction is increased – Due to the prompt customer support and the all-time availability chatbot serve as 24x7 self-service agent for customers that goes a long way in satisfying their need for urgency.
Workforce cost is reduced ­– A chatbot can easily take over the mundane and repetitive tasks of agents, drastically reducing the workload on agents and eliminating the need for extra staff for handling common queries during peak call hours. Needless to day, it can handover to Live agent with all the context of discussion with customer.
Wide range of application – The chatbot finds a wide range of application in departments across a company. A chatbot can be very well used for customer service, customer orders, advertising, employee assistant and in a number of other ways as well.
Chatbot - Challenges to overcome:
Responses are limited – Using a chatbot necessarily offers faster overall service but they are not perfect. The simple ones might have limited rule-based responses and hence they may not be able to answer every question. Even a conversational bot would need consistent training, so using a chatbot as an independent channel may take a longer time than other mediums of communication.
Frustration to customers ­– Due to the limited database of the chatbot, they may not be properly trained and cannot improvise. So, at any point in time, the bot gets confused or has no answer, and the conversation might run in a circle thereby creating a lot of frustration for the customers.
Use Cases of Chatbot:
While Chatbots are currently used for simple applications like order booking, appointment booking, or even basic support. But we have seen that companies are also finding it useful for employee helpdesk like IT, HR and for other departments. This way it helps reduce the manpower to provide support and provides an easy way for employee engagement.
Why Bots are the Biggest Trend?
In spite of the challenges of training a bot. They are still the most in-demand customer support tools today. According to a report by Acquire.io, 2018, "40% of their surveyed respondents said they chat with a chatbot on a daily basis". According to another report by the State of chatbot reports, 2018, "64% of internet users say 24-hour service is the best chatbot feature".