The global contact center industry spends trillions of dollars on customer service calls; however, customers do not really prefer speaking to automated phone support or a live agent.
Customers favor self-servicing options and then messaging a business only when they need to. Interfering with the consumer's purchase process comes off as 'salesy' and pushy, which often repels them.
If we trace a customer's purchase journey, we can pinpoint the moment where the buying intent is generated. Engaging the customer at this crucial moment can incur delightful experiences, create meaningful conversations and definitely, propel the business.
Well, this where Google Business Messages comes in! This conversational channel is an exceptional marketing platform to meet your customers when necessary.
What is Google Business Messages?
Business Messages is a marketing channel by Google that allows brands to meet their customers exactly where they are. Brands can leverage this messaging tool to drive one-on-one engagement with prospects and create a hassle-free purchase process.
Statistics show that if customers are rightfully engaged, they can generate up to 23% profitability for a business.
Customers always prefer messaging a business only when it is needed. Any more interference by the brand feels intrusive and pushy. However, with Google's Business Messages, this will never be the case.
How does it work?
Companies can integrate Google's Business Messages with their map search result, organic search results, and third-party websites. Engaging with the customer at the very primary stage of the purchasing process is a revenue-generating move.
Around 46% of Google searches are about local information. This roughly means that most customers search on Google when they first think of buying any product or service. One cannot lie about the role that Google as a search engine plays in every purchasing process. With Business Messages, brands can utilize this fundamental criterion to create an engaging and value embedded experience for their prospects.
The highest intent is when the customer is researching for the product they need. A generic customer will have queries, pricing doubts, and other relevant questions. This is a dilemma we all face before any purchase. Now, usually, the customer will visit the nearest store based on reviews or will call the business at a convenient time. In the meantime, the customer will speak with their peers, and they will switch back and forth between brands and finally decide on something. With so many variables at play, it is always hard to attract the customer. Traditional ways of cold calls also repel millennial customers.
This is where Business Messages build the bridge. A messaging option with every search result or on the map search will allow customers to quench their queries right when they look up the product. Brands can share product brochures, pricing details, real images of the product and drive the buying decision. At the highest point of intent, real-time engagement is how you can convert these prospects into lifetime customers.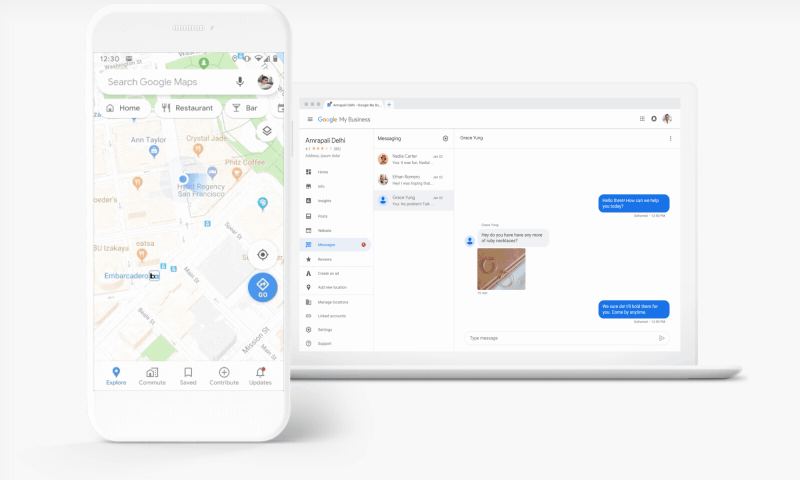 Source: Medium
What are the benefits of Google Business Messages?
Meet Your Customers Where They Are
The question is, where are the customers? They are on Google Search or Google Maps, looking for nearby businesses or e-commerce sites. Business Messages integrates with all these platforms to provide a seamless experience to the end-user across all channels. Customers can just reach the industry with a single tap on the message option below the SERP search result.
4 in 5 customers use the search engine to find local information. However, 81% of these customers find it difficult to reach a business. This negatively impacts most companies over time.
GBM helps businesses to engage with customers when they need them. It empowers your brand to be where they are when they need you. The customer also feels intrigued and not fatigued by these conversations as it satisfies their need at the moment. This way, your brand can positively impact the customer and drive them to buy from you. If implemented rightly, your business can determine customers from an indecisive stage and guide them to conversion.
Personalized Engagement
How often have you been bombarded with irrelevant ads? Whenever I open my socials or walk out, I see banners or ads that showcase products I can't afford or don't need right now or will never buy. Repetition of such advertisements, cold calls, or messages immediately makes me unfollow the business online and put their numbers on DND.
These brands lose customers more often than ever.
Earlier customers didn't have much choice, so they still approached these brands despite the shabby engagement. However, now the times are different. Everybody is leveraging other tactics to win customers over. With Google Business Messages, you can do the same.
You can deliver relevant information only when the customer needs it. Drive valuable real-time conversations with your prospects and ensure a premium customer experience. Tell your customers about the products they are looking for, share relevant product brochures and pricing. The engagement is minutely curated to the customer's needs. This will drive sales, and support is not wasted on irrelevant customers.
Customers will also feel valued and heard as the information is personalized for their individualistic needs. This will build brand awareness and generate loyalty. Above all, people are likely to leave positive reviews as it's happening digitally, paving the path for more conversions.
Source: Search Engine Roundtable
Spend Less and Drive More Sales Via Organic Search Results
As mentioned earlier, most consumers search online, especially on Google, before making a decision. They might be looking to buy, subscribe, or even just looking for information. Business Message integration will show a messaging option to the end-user when your business shows up as a search result.
Most companies spend millions on their content strategy, keyword density, and SEO to rank first on the SERP. This always doesn't drive ROI as expected. However, with Business Messages, you can directly drive sales based on your search engine marketing strategy. In other words, you can leverage the money already being spent not only to market yourself but also to earn revenue.
You can also automate this process by adding chatbots that will converse with multiple customers. It's more efficient than hiring numerous agents to do the same task. Agents can be consulted when the bot cannot resolve the conversation by itself. You can look into our chatbot solutions to offer a friction-less everyday experience.
On the other hand, live agents can conduct multiple conversations at a more productive time than one call at a time. Therefore, more engagement resulting in more revenue.
Privacy And Convenience Focused
Usually, when we message a business through their websites, we are bombarded with very intrusive questions like email id, phone number, location, and more. These are time-consuming and, at times, kind of informal for many customers. Most customers refrain from providing their details due to privacy concerns and move ahead with a more straightforward solution.
With Google Business Messages, this will never be the issue. The customer does not have to disclose any information, and the conversation can still be carried forward nonetheless. It's more convenient and time-efficient for the customer. The customer can choose to share more details if they need to based on their comfort. This again builds trust and loyalty towards a brand. Such gestures will encourage existing customers to recommend the brand to their peers and family.